Whether you take your dog to dog parks or doggie daycare, you do so to allow your pet to expend energy and to allow them to socialize with other pups. But which is better for your dog?  Below we look at a few factors that may help determine which is better for your dog.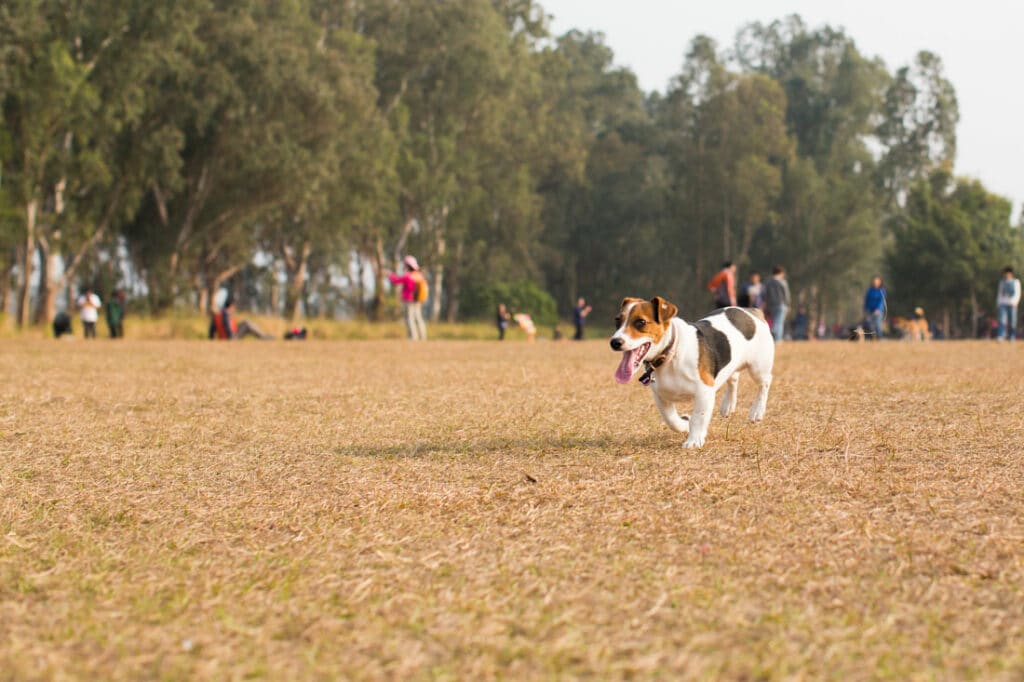 Environment:
Dog parks our outdoors, which is great! Dog parks may have water but it is usually in a dirty bowl and the water itself is not very clean. Dirty water is one of the biggest sources where a dog can potentially pick up such diseases as Giardia. Doggie daycare centers throughout Arizona, Phoenix and Gilbert offer a clean environment with constant access to fresh, clean water. As most native to Arizona know temperatures can easily reach over 100 degrees, especially in the summer time. In areas such as Arizona, Phoenix and Gilbert dog parks pose the risk of heat stroke and severe dehydration due to such extreme temperatures.  Most pet resorts in Arizona, Phoenix and Gilbert offer in-door doggie daycare. Some of these pet resorts offer state-of-the-art climate controlled air systems to ensure their doggie patrons stay cool in the summer, dry when it rains, and warm in cold winter months.
If your pet loves the outdoors dog parks are great spots for pet owners who monitor there pets play level and bring their own fresh water to ensure their pet stays hydrated. Most dog parks have trees and other areas of shaded space where you and your pet can rest if it gets too warm. You and your pet can have a great time at the dog park as long you both come prepared for the weather outside.
Visibility:
Some pet parents love the dog park because they go with their dog and get to see them in action. Many pet resorts, including our own, offer web cameras for pet parents viewing pleasure. No more worry or wonder about what your dog is up to; simple log on to any smart device or computer and see your pet in action. Doggie day care staff also ensures a clean and safe environment for your pet. No more worrying about dealing with another owner who is not watching their dog or picking up after their dog when your pup goes to doggie daycare in Arizona, Phoenix and Gilbert.
Although doggie daycare is great to reinforce certain training commands, dog parks are perfect places to practice certain commands as stay, heel and recall commands while off leash.
Vaccinations:
Even though there are laws in Arizona, Phoenix and Gilbert regarding pet vaccination, when you go to the dog park you have no way of knowing if an owner is actually keeping up with their dogs vaccinations.
Doggie daycares throughout Arizona, Phoenix and Gilbert keep strict standards regarding vaccinations to ensure all pets stay healthy.
Size and Temperament:
While some dog parks do split up their yards, one for small dogs and one for big dogs, any and all dogs may still walk in regardless of their temperament. Many dog parks do post signs and restrictions notifying owners of the risks that may impose upon them once they enter.
Most doggie daycares, on the other hand, split dogs up based on size and temperament. At our own Paw Commons in Arizona, Phoenix and Gilbert dogs must pass a simple evaluation to ensure they are a good fit to keep all dogs including themselves safe and happy.  Many people that frequent dog parks are great pet parents and dog owners and show that by keeping an eye on their dogs and ensuring they have fun and stay out of trouble.
Dog parks and doggie daycares are both a great way to let your pup loose in a leash free environment where they can socialize, have fun and expend some energy.  While some dog parks are a bit more risky then some doggie daycares, they are still a great treat to take your pup to as long as pet parents are vigilant and caution is used regarding water and other dogs temperaments. Dog parks are a great place to work on training such as stay and recall commands and doggie daycare is a great place to have them reinforced while you are at work or on vacation.