Custom Dog Grooming Services in Bay Park San Diego, CA
Our experienced team of professional dog groomers at our Paw Commons Pet Resort Bay Park location uses only the finest products and equipment to help your pets look and feel their best. Regular grooming is known to offer numerous health benefits. Plus, your pet will come home feeling, smelling and looking great! You may even notice your home staying cleaner when you have fewer muddy paws and less shedding to keep up with.
Grooming appointments at our Paw Commons Bay Park spa fill up quickly, so we recommend booking well in advance. We groom every day of the week, including Sundays. You do not have to be a dog boarding or dog daycare client to use our grooming services, although we do offer exclusive discounts on our Basic Bath and Express Bath services for Dog Boarding guests.
Our grooming services at Paw Commons Bay Park are convenient to the San Diego communities of Mission Bay, Bay Park, Clairemont and Linda Vista. We are located near SeaWorld, Old Town San Diego and San Diego International Airport.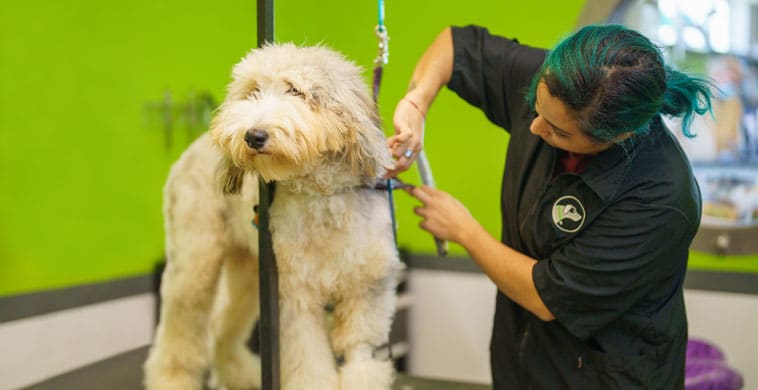 Schedule Your Pet's Reservation!
Dog Grooming Services at Paw Commons - Bay Park
Pricing varies according to your pet's size, breed, coat condition and temperament. A Pricing Guide is available below for reference. Please contact us directly for a personalized estimate.
Top Products

: Our grooming routine includes

high-quality moisturizing shampoos and conditioners

to soothe your dog's skin and coat. Hypoallergenic Shampoo or Flea Shampoo can be substituted at no additional charge.

HydroSurge System

: Mixes water, air and shampoo, then uses a pulsating action to easily rid your pet of dander and dirt. The water reaches their skin for a more thorough cleaning and delivers a nice water massage at the same time.

Furminator Process

: We use a specially formulated deshedding shampoo and conditioner in addition to a special

deshedding furminator brush

to address bulky shedding coats. Recommended for dogs with double coats and those who shed seasonally or year round.
Blueberry Facial

: Helps to decrease the appearance of tear stains, brightens coat, cleans and hydrates skin, provides a fresh scent.

Teeth Brushing

: Your dog's teeth need regular brushing to help remove buildup of tartar and plaque, improve dental hygiene, and freshen their breath.

Nail Trims

: Regular nail trims help keep nails short and improve comfort when walking.

Ear Cleaning

: Aids in preventing itchiness and discomfort in the ears. Regular cleaning will help avoid ear infections.

Hot Oil Treatments: Soothes itchy dry skin and addresses flaking and dandruff by providing deep moisturization.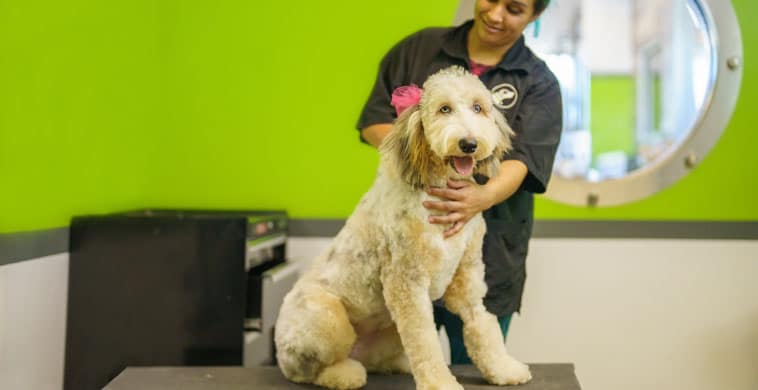 Dog Grooming: Behind the Scenes
Most grooming appointments last an average of 3 to 4 hours, from drop off to pick up. Upon check-in, you will meet with the groomer to discuss your desired grooming services. Then your pup will head to the tub with our groomer to get washed up. After they are dry, they are brushed, trimmed, and styled depending on your grooming service selection. Finishing touches include a splash of cologne and a seasonal bow or bandana.
Our groomers have specific appointment times and follow a cycle of bathing, drying, and styling pets in the order they arrive. Grooming services utilize grooming kennels and cool air drying fans. Hand drying is available as a request with straight-through appointments for an additional charge. Must be cleared with the groomer.
Schedule Your Pet's Reservation!
Dog Grooming Services Rates
Please note that all rates are the "starting at" rates.
Service
Description
Small Breeds
Yorkie, Maltese, Toy Poodles and similar
(up to 25lb)
Medium Breeds
Schnauzer, Cocker Spaniel and similar
(25lb - 50lb)
Large Breeds
Retrievers, Huskeys, Doodles and similar
(50lb +)
Basic Bath
Warm oxygenating bubble bath:
+ Hypo-allergenic & premium shampoos
+ Finishing hand-blow drying
$28.95
$33.95
$38.95
Premium Bath
All of the above and:
+ Nails trimmed
+ Eyes & ears cleaned
+ Anal glands expressed (as needed)
+ Tidy-up around eyes & ears
+ Tidy-up sani-area (under tail)
+ Tidy-up paws (no legs or body)
Starting at:
$39.95
Starting at:
$49.95
Starting at:
$59.95
Haircut
All of the above and:
+ Full face & body groom
+ Hand scissoring
+ Breed specific cuts
Starting at:
$69.95
Starting at:
$79.95
Starting at:
$89.95

Additional Bathing & Grooming Services

Deshedding & Furminator
Deshedding with Furminator Shampoo helps reduce shedding for double/thick-coat breeds
$15
$20
$25
Dematting
Applying dematting conditioner, Massaging, brushing & combing to remove matts around the body.
*An extra $10 will be applied to all Poodles/Doodles for extra time, brushing & conditioner
$15/25
$20/30
$25/35
Boarding Brush-out
If your pup gets brushed regularly to avoid matting, they can continue to get brushed during their stay with us. Price is for each full body brush-out.
$12
Extras
"Poodle" feet (tight trim of hair in and around paws - can be for any breed), Medicated/flea shampoo, Teeth brushing, Ear cleaning, Sani, Pads, Blueberry Facial, Coat Treatment
$7-$15
Nail Trim
Complete four-paw nail trim
$16
Mobile users, drag the table left to right with your finger to see all of the content.
Schedule Your Pet's Reservation!
Health Benefits of Dog Grooming
Regular grooming leads to healthier, happier pets. When you bring your furry friends in for professional grooming sessions, you will likely notice many or all of the following improvements and advantages:
Beautiful shiny coat

Less shedding around the house

Smells fresh and clean – More huggable!

Aids in prevention and detection of fleas and ticks

Trimmed nails are more comfortable for your pet. Nail trimming should be done on average every 3 - 4 weeks. Regular trimming encourages the quick of the nails to recede.

Ear cleaning can aid in preventing itchiness and discomfort in the ears and can help avoid ear infections. Plus, clean ears are more comfortable for your pet.

Our experienced groomers can also help pick up on medical issues that may be in the early stages such as: ear/skin infections, dental hygiene, skin tags/masses.
Any client is welcome to come in for grooming as long as they meet the vaccination requirements.
For those times in-between grooming sessions, there are several things you can do at home to improve how your dog looks and feels, also making their next appointment easier on them.
The more your dog is handled – especially in sensitive areas like feet and ears – the more comfortable their next grooming appointment will be. Be sure to brush your dog several times a week using a brush or comb that is suited to your dog's type of coat. And don't forget to brush your dog's teeth with a canine toothbrush and toothpaste. (Don't use human toothpaste, since it often contains xylitol, which is toxic to dogs.)
Vaccination Requirements for Grooming
Vaccination requirements for our grooming services differ from the requirements for the rest of our resort services. If you are using Paw Commons - Bay Park strictly for grooming purposes, we will require the following current immunizations:
Rabies (1 or 3 year Booster)

Distemper/Parvo (1 or 3 year Booster)

Bordetella (6 month or 1 year Booster)