Premier Dog Boarding in Kearny Mesa, San Diego, CA
Paw Commons Pet Resort provides Premier Dog Boarding near the San Diego communities of Kearny Mesa, Serra Mesa, Tierrasanta, and Clairemont Mesa East. Near Mission Trails Regional Park, Admiral Baker Golf Course, and MCAS Miramar.
Our premier Dog Boarding service offers your precious pets more than just a safe place to stay overnight. You too can rest easy knowing we offer the highest levels of care, comfort and attention that your dog needs and deserves.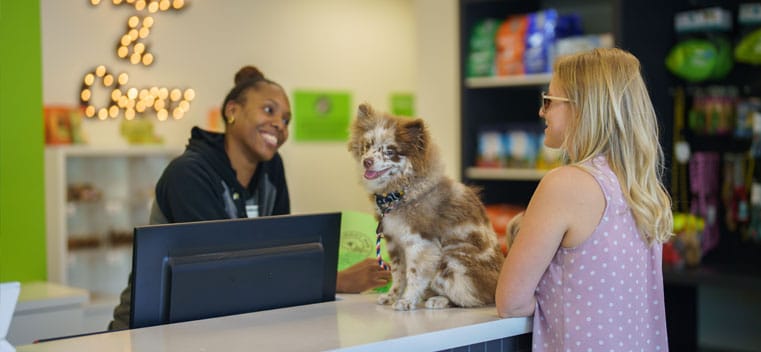 Schedule Your Pet's Reservation!
Quality Dog Boarding at Paw Commons in Kearny Mesa
Paw Commons offers dog boarding services for all of our guests. Pet parents will appreciate our flexible, customized care options, and dogs will have so much fun. We love seeing the excited tail-wagging and bouncing exuberance of our return guests upon arrival when they realize where they are! Our trusted services feature: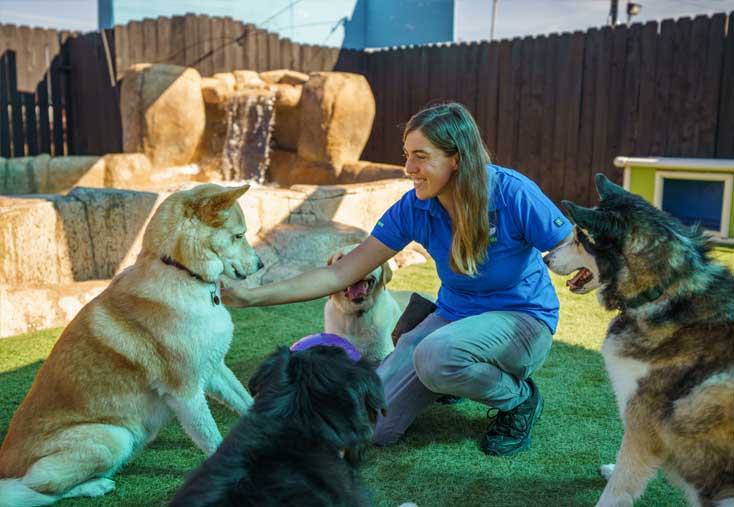 Climate-controlled

facilities

Safe, comfortable

lodging

for every dog

Comfy Suites

: Private room, Raised plush bedding, Fresh water

Dogs from the same family are able to share the same lodging suite if space allows

Feeding options

are flexible and are included in the cost of boarding

We will provide your (dog's) choice of

Fromm Adult Chicken and Brown Rice dry food

Fromm Chicken pate or Fromm Beef & Barley pate (additional cost)

Pet chef prepared boiled chicken and steamed white rice for our pets with sensitive stomachs (additional cost)

Or you can provide your pet's food from home

Please bag and label each portion

Our full-service kitchen easily accommodates food needing fridge or freezer storage
Outdoor

Group Play

area with separate yards for small and large dogs, featuring our splash ponds. Group play includes toy time, bubbles, and plenty of socialization 

Webcams

are password protected and provide pet parents with a sneak peek at the outdoor group play yards during normal business hours

Day Play Evaluations

with temperament assessments are required for all group players.

Safety measures

include daily wellness checks for all guests, daily room cleanings and refreshing of water multiple times per day. Staff are trained in Animal handling and Behavior safety.

Our programs are well-suited to Smaller dogs

, who enjoy our separate play area, private sleeping accommodations and full-service grooming options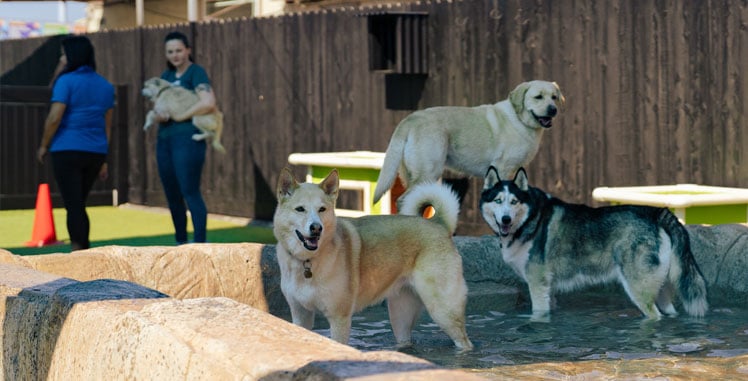 Dog Boarding Rules & Rates
Comfy Suite starting at $37 per night
Prices are per night, per dog and are dependent on size of dog and whether it is a peak/holiday season. Discounts of 20% off the 2nd dog & 40% off the 3rd dog apply to all dogs staying in the same room.
We know you're busy, so our goal is to make your check-in as easy as possible. Submit your pet's registration forms before you arrive.
Mon - Fri: 7:00 AM to 7:00 PM
Sat: 9:00 AM to 4:00 PM
Sun: 12:00 PM to 4:00 PM
All overnight guests must arrive prior to 3:00 pm*
All overnight guests must check out by 1:00 pm**
1:00pm check out time can be extended with the addition of an exit grooming service

*$25 fee for late check-in
**Cost of the next night's lodging rate for late check-outs after 1:00 pm
---
Ask about our full service grooming options for overnight guests.
**The check out fee is waived with the addition of an exit bath on the day of departure. The 1:00 PM check out time will be extended until we close during normal business hours.
Dog Boarding Activities in Kearny Mesa San Diego, CA
Enrichment activities for overnight boarding guests at Paw Commons include group play, and training camp options.
We require a play package for all of our dog boarding guests at Kearny Mesa. Having a structured routine helps dogs stay happier and more settled during their visit with us.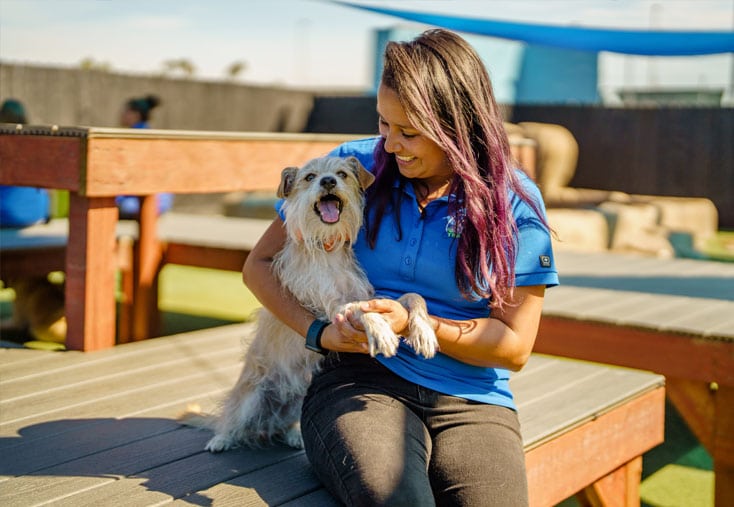 Group Play at our Paw Commons Kearny Mesa Location
Must pass day play evaluation

Must be spayed/neutered if over 7 months

Platinum $35/day

Recommended for all, especially for energetic puppies, active breeds, and dogs who enjoy socialization

6 hours of free play in the group play yard (bubbles, toys, webcam access)

Gold $28/day 

Recommended for older pets or couch potatoes or pets needing lesser activity  

3 hours total of group play split into two sessions with a midday break (bubbles, toys, webcams)

Silver $22/day

Recommended for senior pets, pets who are shy and may need a slow acclimation to group play 

1 hour total of group play split into two 30 minute group play sessions
Does your dog need some obedience lessons or manners reminders? We can arrange a consultation with one of our skilled dog trainers to create a program tailored to your pet's specific training needs. 
The training will take place while your pet is boarding with us.
Dog Boarding Add-ons and Extras
Add a bedtime treat – choice of

Peanut butter kong

or

Bully stick
Ask us about our Grooming services, from basic to full-service options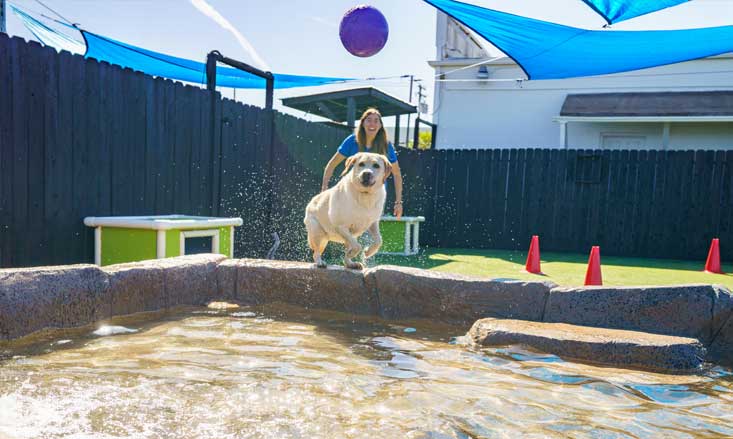 Schedule Your Pet's Reservation!
Serious about Dog Boarding Safety
Our staff are trained in Animal Handling and Behavior Safety Training

Group play is always supervised to ensure positive interactions

Regular sanitization of shared and private play spaces and lodging quarters

Frequent supply of fresh water

Sophisticated HVAC system maximizing quality airflow throughout the resort

Separate fenced play yards for large and small dogs

All Dogs must pass day play evaluation to participate in group play

Daily health wellness checks for lodgers

Staff is on site from as early as 4am to as late as 12am

Each pet is secured in their private room overnight

Building is equipped with alarm system, fire safety system and interior security cameras with full access for management

Rotating on-call schedule for managers

Regular fire safety inspections performed by fire department
Frequently Asked Questions about Dog Boarding at Paw Commons Kearny Mesa