Superior Dog Daycare in Scottsdale, AZ
Paw Commons Pet Resort provides superior Dog Daycare in Scottsdale, AZ near the Phoenix area communities of Old Town Scottsdale, Downtown Scottsdale, and South Scottsdale. We're located near Fashion Square, Desert Botanical Garden, and the Phoenix Zoo.
Our Dog Daycare program is a mix of supervised interaction where dogs can have fun playing and enjoying activities together, with plenty of naps as needed. Rest assured that all of the dogs in our play programs have passed their day play evaluation and are separated by size and/or temperament. Our Pet Care Technicians are trained pack leaders who provide constant supervision and enjoy connecting with the dogs individually and as a group.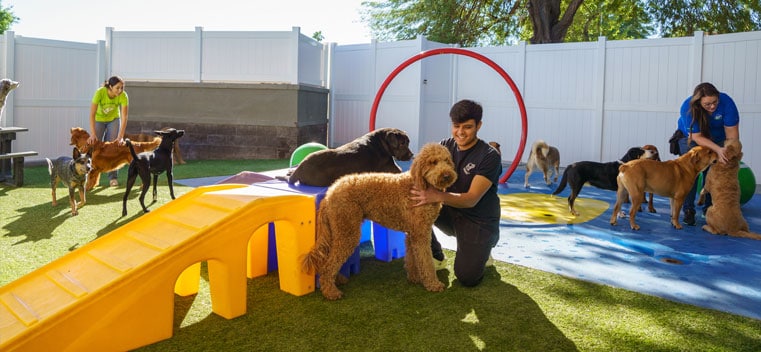 Buy One Paw Pass Get the Second One 50% Off
Call one of our locations and mention this offer.
Buy one get one 50% off Paw Pass Daycare Packages. Limit 2 Paw Passes per dog per family. 10-day BOGO Paw Pass valid 180 days. 20-day BOGO Paw Pass valid 240 days. No exceptions. Discount valid 9/5/23 - 9/19/23.
Safe and Fun Dog Daycare at Paw Commons in Scottsdale, AZ
At Paw Commons, your dog will stay busy, active and entertained in our dog daycare program –  Ready to go home and relax with you at the end of the day. Our trusted daycare programs feature: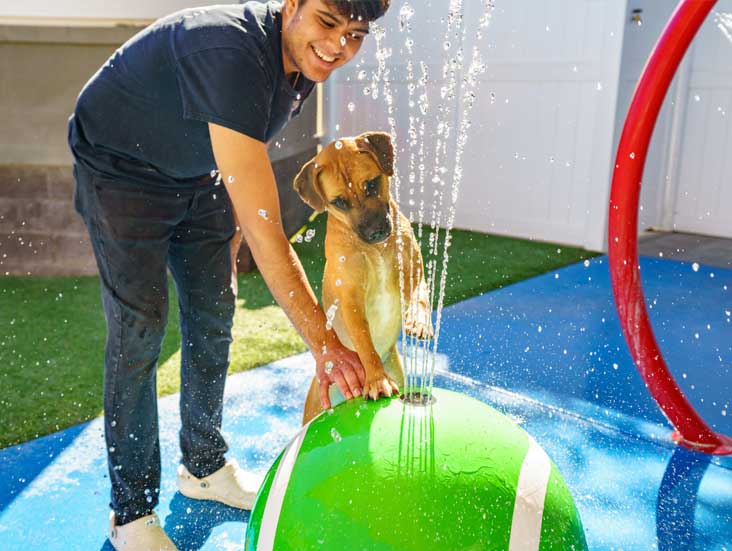 Outdoor

Group Play

area with separate areas for small and large dogs. Featuring our splash pad, covered play areas and optional indoor play area

Climate-controlled

facilities

Free play

and

fun activities

including play structures, bubble time and toy time for plenty of opportunities to socialize and burn off some energy

Lunch

breaks available for a $5 fee. Your dog will enjoy a private suite for eating in peace, with time to relax before rejoining the group daycare yard. Limited availability. Bring your dog's own food or opt for our Fromm house food

Fresh

water

always available

Daycare yard with many spaces to

rest or take a nap

, including play structures and comfy cots

Webcams

are password protected and provide pet parents with a sneak peek at the indoor group play yards during normal business hours

Day Play Evaluations

with temperament assessments are required for all group players

Smaller dogs will enjoy separate play yards with appropriately sized play structures and accessible drinking water
Schedule Your Pet's Reservation!
As loving pet parents, we all desire to consistently give our pets the care and attention they need and deserve. But when life happens and we have to focus on other commitments such as work, school, errands, medical needs or social outings, sometimes we need a trusted partner to help out. That's where our dog daycare programs at Paw Commons Scottsdale come in. Whether your dog's attendance is daily, weekly or on an as-needed basis, we offer a fun, safe environment for your dog to enjoy and peace of mind for you.
Dogs are social creatures and benefit from regular interaction with other dogs, and they also need plenty of exercise. When they are home alone all day, a lot of dogs develop a sedentary lifestyle. But just like humans, our pets are better off with a little more activity and a little less couch time. And if they're not lying around when you're gone all day, their boredom may turn into mischief around the house. As they say – if you don't give your dog a job to do, they will become self-employed!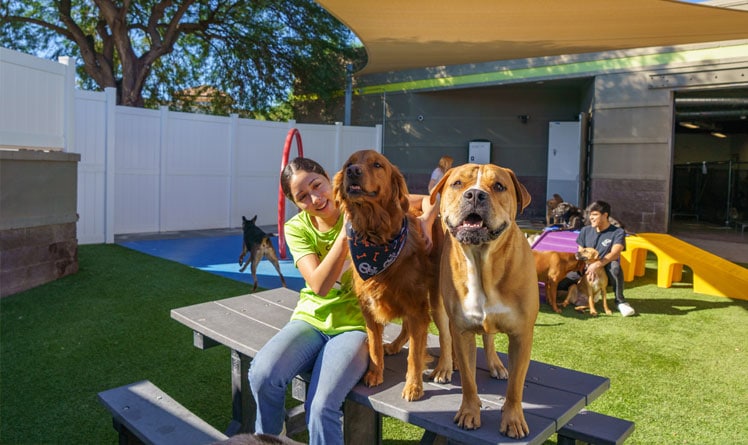 Mon - Fri: 7:00 AM to 7:00 PM
Sat: 9:00 AM to 4:00 PM
Sun: 12:00 PM to 7:00 PM
All daycare guests may start arriving as soon as we open during normal business hours
All daycare guests must be picked up before we close during normal business hours
We know you're busy, so our goal is to make your check-in as easy as possible. Submit your pet's registration forms before you arrive.
Dog Daycare Rules & Rates at Paw Commons in Scottsdale, AZ
All dogs must pass our Day Play Evaluation to be qualified as a compatible group player before joining us for daycare.

The Day Play Evaluation is a scheduled 4 hour assessment during which we will introduce your dog to our daycare program with a slow acclimation to the group play setting. You will meet with our Daycare Evaluator to review your pup's first day after the evaluation and talk about what services are recommended based on their result.

All dogs must be spayed or neutered if over 7 months old to participate in daycare.

All dogs must be up to date on required immunizations.

Day Play Evaluation - $20 (4 hours)
Half Day (0–4 HOURS)
Single Day – $29

10-day Paw Pass - $265*

20-Day Paw Pass - $498*
* 10 Day Paw Pass valid for 90 days. 20 Day Paw Pass valid for 120 days.
Full Day (4–12 HOURS)
Single Day – $40

10-Day Paw Pass - $360*

20-Day Paw Pass - $615*
* 10 Day Paw Pass valid for 90 days. 20 Day Pass Pass valid for 120 days.
Unlimited Monthly Membership
First Dog – $525

Second Dog – $313
Frequently Asked Questions about Dog Daycare at Paw Commons Scottsdale