Your Trusted Partner for Loving Pet Care While You're Away
As loving pet parents, we all desire to consistently give our pets the care and attention they need and deserve. But when life happens and we have to focus on other commitments such as work, school, errands, medical needs or social outings, sometimes we need a trusted partner to help out. That's where our dog daycare programs at Paw Commons come in. Whether your dog's attendance is daily, weekly or on an as-needed basis, we offer a fun, safe environment for your dog to enjoy and peace of mind for you.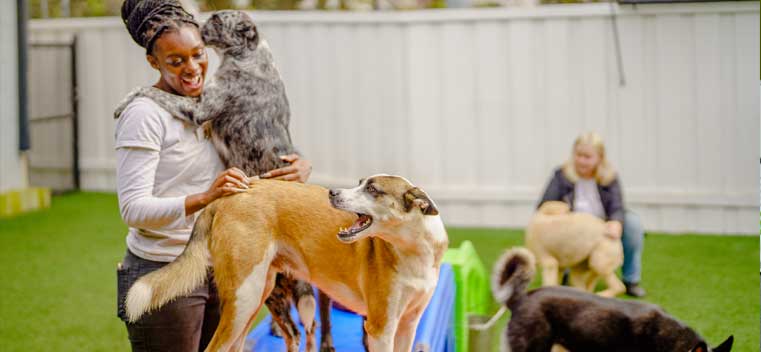 Buy One Paw Pass Get the Second One 50% Off
Call one of our locations and mention this offer.
Buy one get one 50% off Paw Pass Daycare Packages. Limit 2 Paw Passes per dog per family. 10 day BOGO Paw Pass valid 180 days. 20 day BOGO Paw Pass valid 240 days. No exceptions. Discount valid 9/5/23 - 9/19/23.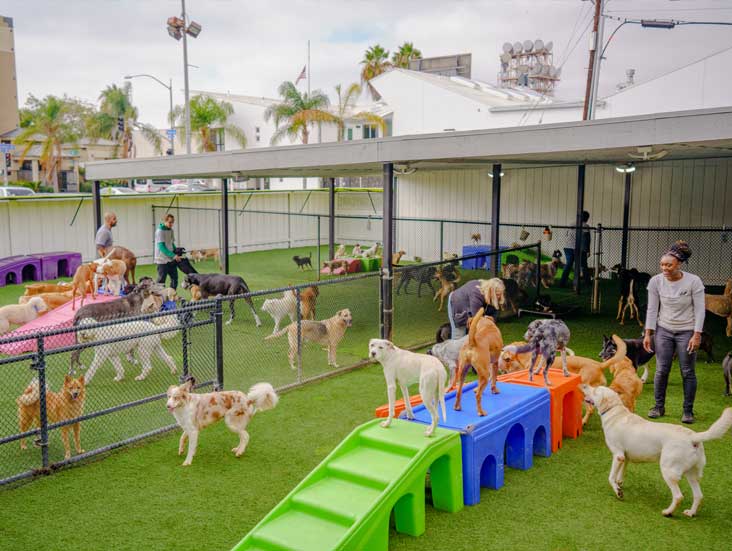 Dogs are social creatures and benefit from regular interaction with other dogs, and they also need plenty of exercise. When they are home alone all day, a lot of dogs develop a sedentary lifestyle. But just like humans, our pets are better off with a little more activity and a little less couch time. And if they're not lying around when you're gone all day, their boredom may turn into mischief around the house. As they say – if you don't give your dog a job to do, they will become self-employed!
Staying busy and spending time with other dogs is important for the development of good canine citizens. Our daycare groups enjoy supervised interaction with other dogs who have all passed our temperament evaluation. Some dogs can get overwhelmed at first and need to start out with short play times and work up to longer sessions, which we will monitor and happily accommodate.
As our daycare dogs make friends and learn how to play, we keep things safe with lots of supervision and a variety of activities. Each day's group has access to toys, slides and play sets, comfy beds for napping and plenty of fresh water. We play with bubbles, turn on movies and keep a daily routine of play and rest, with extra breaks as needed. Our group play areas are equipped with webcams, allowing you to peek in on the action at your convenience.
Whether you are looking to keep your dog busy, prevent destructive behavior at home, make new friends or find reliable care while you are away, we hope you'll give our dog daycare programs at Paw Commons a chance to earn your trust. We look forward to serving you soon!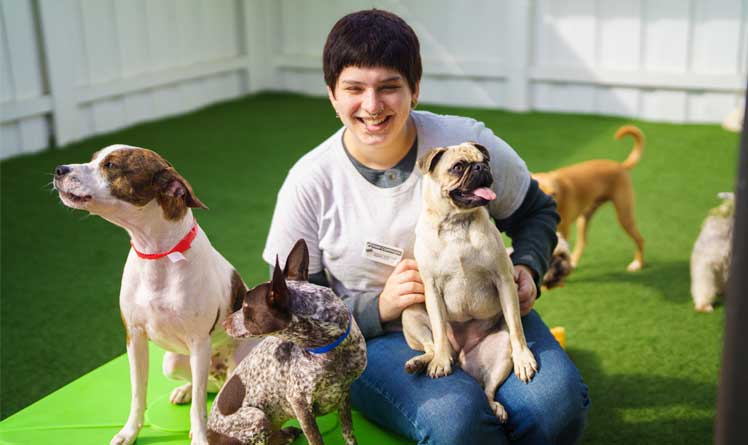 Choose The Location Nearest You For More Information
Give Us a Call or Book Online!