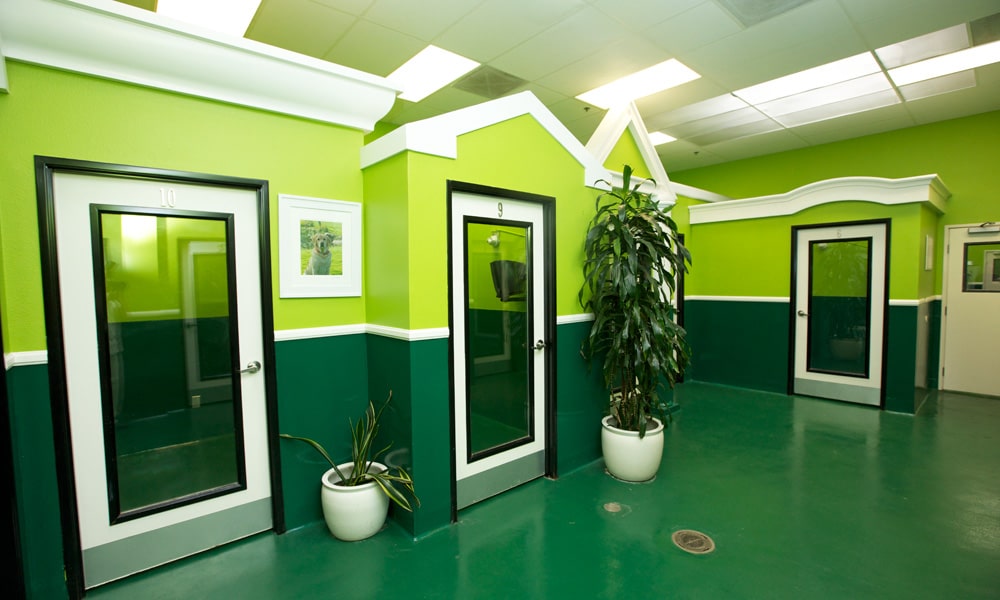 Leaving your best friend with someone else while you're gone adds stress to your travel plans. When you consider lodging your dog you want a facility that takes the best care of your dog and that your dog is happy and safe. A great place to start is to ask your vet for a referral. Your dog-loving friends or family members may also know some good places for you to call. This is a big decision, so it's a good idea to check into several places if you can. Write your questions down so you remember to get all the information you want when you call.
Can I Tour the Facility? An automatic, "yes, please come and visit," is what you're looking for. Clean, well-run boarders have no problem with you taking a look. Check sleeping quarters, play and walk areas, and any yards where dogs socialize and play together. Notice bad odors or unclean areas.
What About Diet? Good dog lodging facilities are focused on the well being of your dog. They will keep her on her regular diet, and allow some favorite treats to comfort her while you're gone. Your boarder should take care to note special concerns, such as allergies and treats to avoid. Your best friend will be stressed and keeping her diet the same will help avoid sickness.
Can I Bring Personal Items for my Dog? Your dog will miss you as much as you miss her. Having something familiar to go to sleep with or just have nearby is comforting and soothing and will help with anxiety. Consider items that smell like home – a towel or a familiar toy (one that you can risk not getting back).
Can I Call to Check In on my Dog? Quality boarders know you love and care about your dog. You will miss her! You should be welcome to call and check in whenever you want an update.
How Much Outside Time Will my Dog Have?Playtimes and exercise should suit your dog's activity level. If your dog is more active, look for lodging options that offer more playtime. If your dog is arthritic or has health concerns, make sure the playtime suits her special needs.
Will my Dog Socialize with other Dogs? Play time is great fun, but be sure that socialization is properly supervised, your dog will socialize with dogs her own size and temperament, and that she will be allowed to rest if she gets worn out. Many boarders have some yards for rougher play, and some yards for more quiet play and rest.
Don't be so focused on what your dog needs that you neglect yourself. Evaluate the staff's level of care toward you, the time they take to answer your questions thoroughly, and their attention to the contact information you need. You need the comfort and assurance that your dog is OK so you can relax!