There are many reasons why your dog may be destroying your furniture. There are also many different ways to help deter the problem. Dogs chewing the couch may be due to such thing as:
Separation Anxiety
Not enough exercise
Lack of dog training
Boredom
Poor Diet
Teething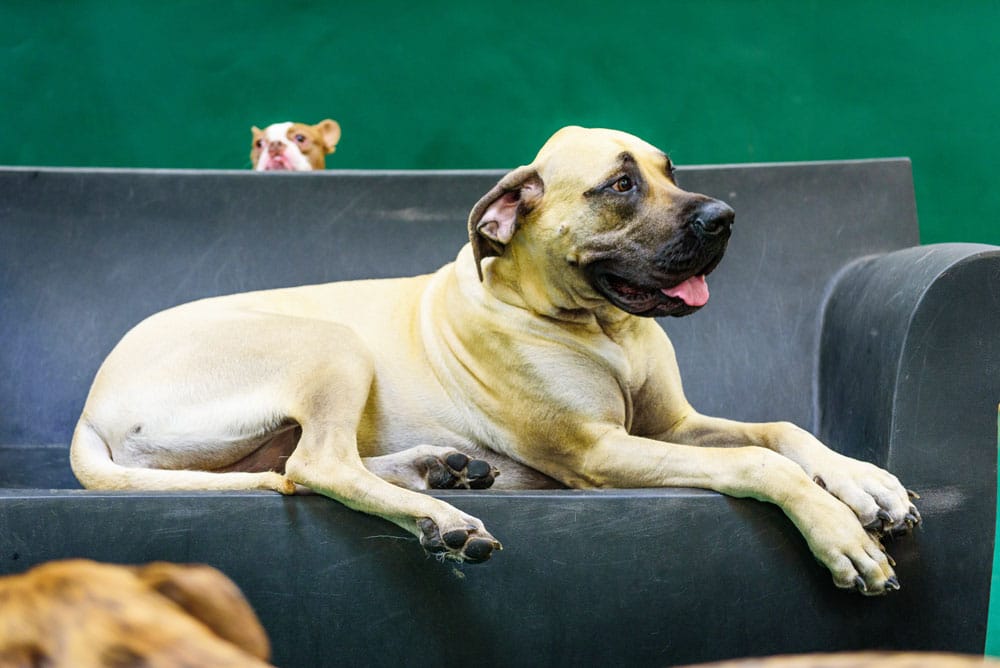 Dogs are not the only pets that show destructive behavior toward furniture. Cats and birds also have been known to scratch, chew and peck at chairs and couches. Some reasons why cats and birds may be chewing the couch include:
Lack of scratching posts
Lack of toys that actively engage pet in non-destructive activities
Separation Anxiety
For cats and birds the best approach to try is to implement certain toys and scratching posts to give them more appropriate things to bite and scratch at. Wood toys for birds are great to hang in their cage or around the house for them to chew on. For dogs there are such options as toys, dog daycare and dog training.
Dog Toys:
To deter your pup from chewing the couch try leaving two to three toys or bones out for them to chew on instead. Try changing out the toys and bones once to twice a month, so they do not become bored with the same toys.
Dog Daycare:
Another great way to relieve boredom, stress and get all that pent-up energy out is to allow them to go to dog day care. Doggie daycare is a great way to allow them to have fun with other dogs and allows you to go to work without worrying about your house. Our own Encinitas location in North County San Diego offers dog daycare and is conveniently located around major areas such as, Carlsbad, Del Mar and Rancho Santa Fe. Another great thing about doggie daycare is that it tires your pup out and makes dog training a lot easier.
Dog Training:
If the toys and dog daycare are still not enough to quench your pet's destructive behavior, the next best option is to try dog training. Trainers can give you expert advice and tips on how to solve this problem. Just remember it is easier to train a tired dog leaving from dog daycare. Our own trainer occasionally travels to areas such as Del Mar, Encinitas, Rancho Santa Fe and Carlsbad for private at-home training sessions.
For more information regarding dog training or dog daycare call us at (760) 452-4166, or visit our website at www.pawcommons.com.