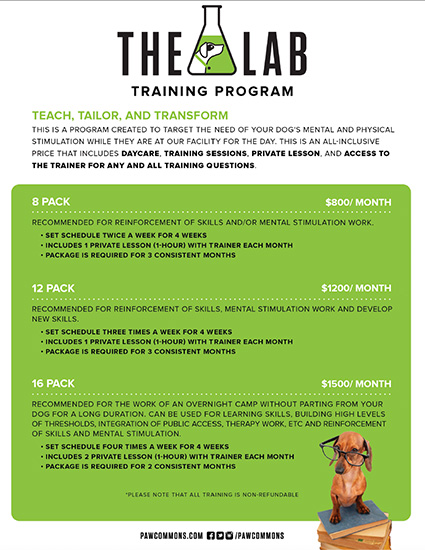 We're absolutely thrilled to announce something extraordinary that's set to redefine your dog's daycare experience. You spoke, and we listened! Many of you have been eagerly inquiring about a program that combines fun playtime with essential behavioral training for your beloved dogs. Well, the wait is over!
🌟 Introducing Our All-New LAB Program🌟
After months of meticulous planning and dedicated effort, we're proud to unveil a program that seamlessly blends the joy of play with the enrichment of learning. This innovative offering is the perfect synergy of our renowned training expertise, our love for fun-filled daycare activities, and our unwavering commitment to top-tier service for both you and your four-legged family members.
Why You'll Love Our Play & Train Program:
Tailored Training: Each session is carefully crafted to ensure your dog not only learns but thoroughly enjoys the process!
Expert Care: Our professional trainers are passionate about creating a positive, stimulating environment for your pup.
Fun Meets Learning: Watch as your dog's playtime transforms into a dynamic learning experience, teaching them valuable skills while they have a blast!
This program is more than just a course; it's a heart project, a culmination of our passion for enhancing the lives of our canine companions. We're beyond excited to share this journey with you and your furry friends.
Let's embark on this remarkable adventure together! Spots are filling up quickly, so don't miss out on this unique opportunity to enrich your dog's life in the most delightful way.
Thank you for trusting us with the care and growth of your beloved pets. We can't wait to see the incredible strides they'll make in our LAB Program.
Warmest Wags,
Paw Commons Pet Resorts