The Paw Commons App is an informational booking portal for all Returning Clients. Using the app you can easily Request Appointments for services such as Daycare, Lodging, Training, and Grooming! If your pup is here playing at Paw Commons for daycare or lodging, check out our web cameras from the app to see all the action! For information on locations and services go to our resources section.
Instructions for iOS and Android users
Go to:  https://stay.pawcommons.com/ on your phone and sign up as a New User.

Create a new user account by filling out the Registration page.

Once New User Account Registration is complete, you will receive an email for completing the registration process.

After you have created the account, Login at that same link and you will see the App Dashboard.

Save the App to your Home Screen.  With the Paw Commons App open on your device, do the following:

iPhone - Must be using the Safari browser!  Click on the 'Share' button (the square with the up arrow) at the bottom of the screen and then click on the 'Add to Home Screen' button. This will add the app to your iPhone.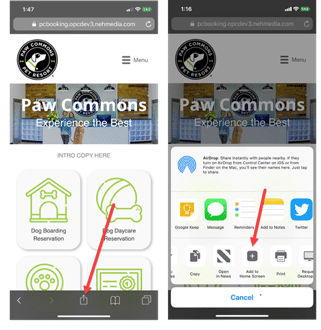 Android - Click on the link at the bottom that says 'Add Paw Commons to Home Screen'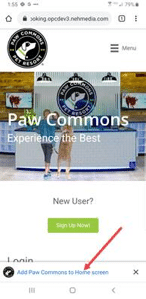 For more information about how to add the iOS version of the App, please watch this video: