Dog Training in Encinitas, CA
Welcome to Paw Commons Pet Resort and Dog Training center in Encinitas, CA. Since 2001 Paw Commons has been training dogs and graduated thousands of happy puppies. Our team of dedicated trainers are Canine Good Citizen Certified, Paw Commons Certified and have years of experience. Give us the opportunity to meet you and your dog for a Free Private training evaluation.
Does your dog have any of the following issues?
Barking and Howling
Digging
Chewing
Leash Walking
Play Biting
Separation Anxiety
Resource Guarding
Jumping on People
Come in for a FREE evaluation. Our trainer will meet with you and your dog. We will discuss your training goals and objectives. The trainer will than assess your dog and discover what are the best Behavior Modification techniques and training aids best for your specific needs.
Quick example: We may find that your dog is very sensitive to sound. If that's the case we need to be careful when using Sound as a Behavior Modification tool.
Your dog may not be food motivated. But during our training evaluation we discover that your dog is toy motivated. BINGO: we now have some tools to work with when starting our training.
Our program at Paw Commons takes a Balanced method approach to training your dog
What is Balanced Method: Here at Paw Commons we are not tied to any one approach to train your dog. WHY? Because every dog is different. By using a multitude of different methods that work with your dog's specific behavior and response we can achieve the best results. This approach gives us use a multitude of training aids in order to come up with the proper Behavior Modification.
Free Dog Training Evaluation
Please call or visit one of our locations to set up an appointment with one of our professional dog trainers.
Types of Training Programs:
Our Board and Train Programs: These programs tend to be those most effective way to get immediate results. These programs require that your drop off your dog with our trainer for a period of 5-20 days. From the moment your dog checks in to our facility we manage every hour of their training acumen. By setting around the clock curriculum we are able to get the most out of our time with your pup.
During your dog's stay at Paw Commons we will work on the following activities:
Sit Leave it
Down Drop it
Stay Leash Walking
Focus
Recall
Leave it
Drop it
Leash Walking
Off Leash Intro
We can also work on the following types of behavior modifications:
Dogs that bark and have leash aggression
Dogs that have separation Anxiety
Dogs that jump on anybody and everything
Potty Training
Chewing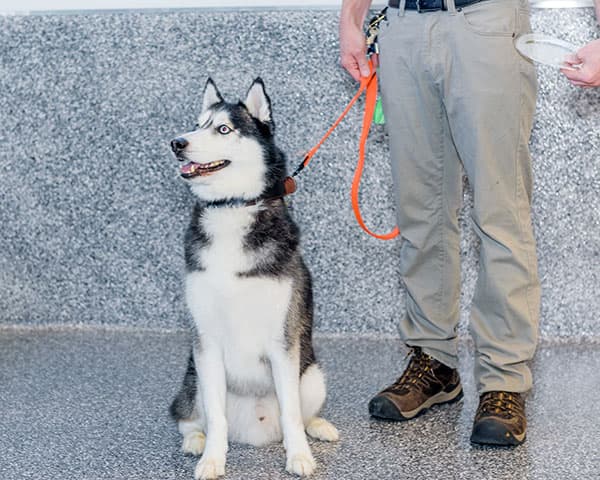 Puppy Classes both GROUP or Private  your pup will learn to:
Focus
Sit
Down
Stay
Come when called
Leave It
Drop It
Socialization with other puppies, people, and new situations.
Note: We can also work on potty training techniques for new dog owners.
THE LAB: Is a private training membership:
In our LAB Program you will be reserved one session of training each week for a minimum of 10 weeks. During this program you will get to work one-on-one with our trainer. Each session lasts around 45 minutes. Through these classes your pup will learn the following:
Sit
Down
Stay
Focus
Recall
Leave it
Drop it
Leash Walking
Free Dog Training Evaluation
Please call or visit one of our locations to set up an appointment with one of our professional dog trainers.
Encinitas Trainer, Danielle Severson
Danielle first started her work with dog training as a young teenager with her own dogs teaching them basic obedience and agility as a way for them to receive a happy healthy outlet. She graduated from Oregon State University with a degree in Animal Science and Agricultural Science to further enhance her career as well as the ability to provide knowledge and feedback when training. Danielle has experience working with a wide range of animals, having done assisted training at the Dallas Zoo. Soon after she began working with the company Joel Slaven Professional Animals putting on performances for big audiences. There she trained rescued dogs and cats with various personalities and behavior. She would work with them on their basic obedience so they could be adopted to good homes. Danielle's experience is unique and throughout the years she has learned to enjoy all different types of training with a variety of animals. Danielle is a Certified AKC Canine Good Citizen Evaluator and would love to work with your pet and help them become a Canine Good Citizen too!