Has there been any trouble with your dog jumping up on people while on walks? Your pup suffering from separation anxiety?
We are happy to provide a variety training services for your dog and his or her specific needs. Just give us a call, and we'll discuss the options to find what's best for your canine. Learn more about Bay Park's training program by checking our professional dog training page.
Free Dog Training Evaluation
Please call or visit one of our locations to set up an appointment with one of our professional dog trainers.
PUPPY 101 & PUPPY 202 (Dogs Under 1-Year Only)
BASIC OBEDIENCE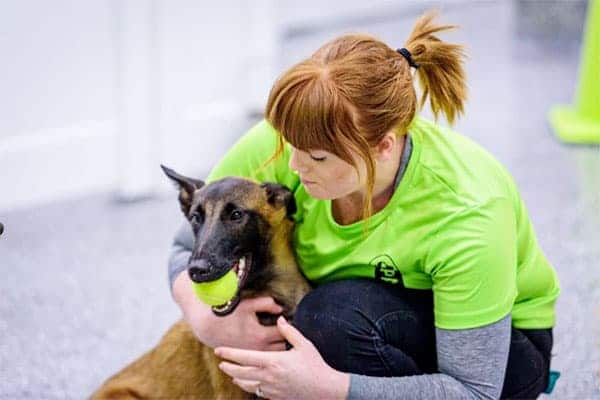 Bay Park Trainer, Heather Simpson
Heather is our dog trainer at our Bay Park location and she has been working in the pet care industry for the last decade. Heather moved to San Diego in 2009 and was given an opportunity to volunteer at Helen Woodward animal shelter. After just a few shifts she quickly realized animal care was her passion. This passion led her to a doggie daycare and overnight facility, where she quickly worked her way to the General Manager position. This hands-on experience helped to foster a greater love and understanding for the human and K9 relationship which lead her to a nonprofit that trains service dogs. Heather was able to train dogs for specially selected families to help with their medical needs. This specialized training would take on average 14-16 months and allowed Heather to create some lasting friendships not only with the dogs she would place but with the families. This beyond rewarding experience helped to develop her love for dog training and ultimately brought her to Paw Commons.
Heather's three fur babies Nala, Kobe, and Henry are always up for her adventures and spend most free days hiking or at the beach. Heather's love for animals is the driving force behind her constant desire to learn new training skills and help more people have a better lasting and loving relationship with their four-legged family member.